How has COVID-19 affected salaries?

When we ran our first survey in March 2020, the results showed that only 38% of respondents' had seen their salary affected by COVID-19. Just 12 months later we asked the same question and the proportion of those whose salary had been affected had risen to 52%.
That is a 37% increase of professionals whose salary has been affected by COVID-19!
The effects themselves are wide-ranging and reflect the uncertainty faced by businesses and individuals during the pandemic.
In the following sections we unpick the key trends behind that figure of 52% and put these findings into context.
A pay rise during a global pandemic, really?
It might be hard to believe that during a global pandemic, which resulted in 10% of our respondents being made redundant, some professionals saw their salary increase. However, that is what our data shows us.
In response to our survey, 5% of professionals said they had received a salary increase during the pandemic. Increasing from just 1% of respondents in March 2020. Although this initially seems out of keeping with what has undoubtedly been a difficult period for everyone. When we look at the sectors reporting salary increases, it begins to make more sense.
In this graph, we can see which sectors were most likely to report a salary increase over the last 12 months. As you can see, over a fifth (22%) of our respondents who reported a salary increase worked within Technology & Telecoms. This is arguably the sector that was best placed to thrive during COVID-19 as businesses increased their virtual offerings and almost all employees worked remotely.
A clear example of demand for a skillset driving up the compensation levels on offer for those professionals with that valuable professional experience.
One of the most startling findings from our survey was the impact of redundancies on our respondents.
When we first asked this question in March 2020, only 3% of respondents had been made redundant as a direct result of COVID-19. By March 2021, 10% of our respondents now reported being made redundant.
The impact of being made redundant can be severe and it is an area that we wanted to investigate further. To do this, we broke down the respondents who had been made redundant by sector.
Interestingly, it is the Financial Services & Commodities sector that suffered the most in terms of redundancies according to our respondents. A fifth of the redundancies we recorded came from professionals working in this sector.
At this point it is important to understand that there is a possible slant on our data here. The Pay Index's audience is slightly weighted towards those working within the financial sector and therefore their responses to this question may not be in proportion.
That said, it has been an uncertain spell for the financial sector. Several well-known financial institutions such as JPMorgan Chase, HSBC, Citi and Goldman Sachs have all made cuts to staff numbers.
These findings also include what is perhaps another surprise contributor with professionals in the Technology & Telecoms sector reporting the third highest rate of redundancies (35%). At first glance, this is one of the sectors best placed to thrive in a COVID-19 environment, so why such a high rate of redundancies?
The key to this is the broad definition of the term Technology & Telecoms, it covers a diverse sector which will have been affected in different ways. For example, within Technology & Telecoms you would find SaaS companies, software developers and customer service helplines, all facing different challenges.
Despite seemingly well placed to cope, and maybe grow, during COVID-19, on the surface. As you will see in the next two paragraphs, Technology & Telecoms is a sector that appears to contain both extremes of COVID-19's effects.
To most businesses during the nightmarish rollercoaster of the last 12 months, it must have become increasingly obvious that some costs would have to be cut to survive.
Our findings show that the most common area where businesses sought to make savings was in bonus pay-outs to employees.
In March 2020, only 4% of respondents had seen their bonus decrease. When we fast forward to March 2021, this figure had jumped to 20%. This means a fifth of our respondents have seen their predicted bonus cut or potentially unpaid because of COVID-19.
It is important to remember that a lot of professionals factor in their bonuses as almost an extension of their salary, rather than, well, a bonus. The withdrawal of that income source is likely to have caused substantial difficulties to many people around the world.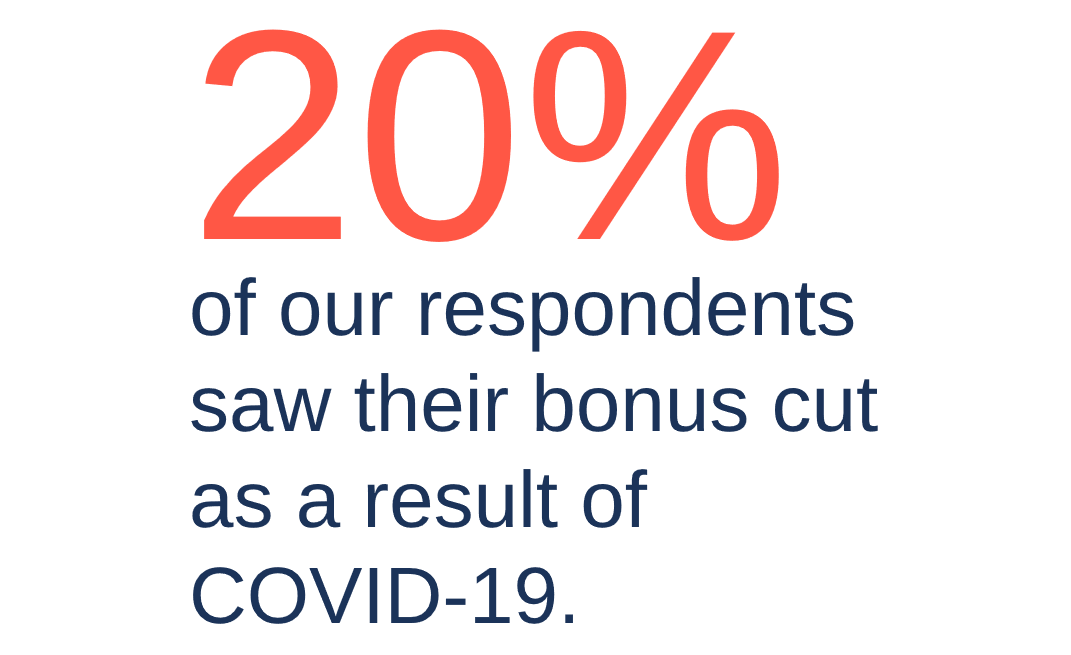 In this section, we have clearly identified the main effects of COVID-19 on the salaries of professionals around the world.
We have consistently found that the set of results from our first survey (March 2020), do not reflect what we now know was the severity of COVID-19. The initial uncertainty quickly made way to reactive decisions as many businesses fought to survive by cutting bonuses and making redundancies.
Looking ahead it is intriguing to consider what the long-term effects of COVID-19 will be on salaries. One of the most interesting possibilities stems from the increase in remote working during the pandemic. As a side effect of the last 12 months, businesses and employees now see remote working as a genuine solution, and perhaps even desirable. It provides employees with more flexibility and enables businesses to downsize office space and the associated costs.
Yet could this shift in perception of remote working potentially see businesses now pay salaries based on an employee's location, rather than the location of the role?
For example, what happens now to an employee based in Reading who works fully remotely and no longer needs to commute to the office in central London, but is being paid a London salary?
To gather the findings included in this report, The Pay Index ran two unincentivised surveys, one in March 2020 and another in March 2021.
The first survey in March 2020 received 1,322 responses.
The second survey in March 2021 received 606 responses.
The surveys were promoted using a variety of platforms to broaden the spectrum of respondents, including email marketing, LinkedIn and Twitter.
Each respondent maintained complete anonymity throughout the process. The only identifiable piece of data we hold is the optional inclusion of an individual's email address, only if they wished to be notified about the survey's findings.
A copy of both sets of survey questions can be provided upon request.
How much does it cost?
The Pay Index is free to use
Gain immediate access to a range of interactive global compensation reports for your job function.