Top 15 cities for executive compensation – where does your city rank?
11/22/2018 The Pay Index
Latest figures from The Pay Index assessed which cities offer the greatest average remuneration packages.
The figures are taken from the 15 most popular cities that are registered on The Pay Index, ranking them in order of total average compensation.
Here are the findings: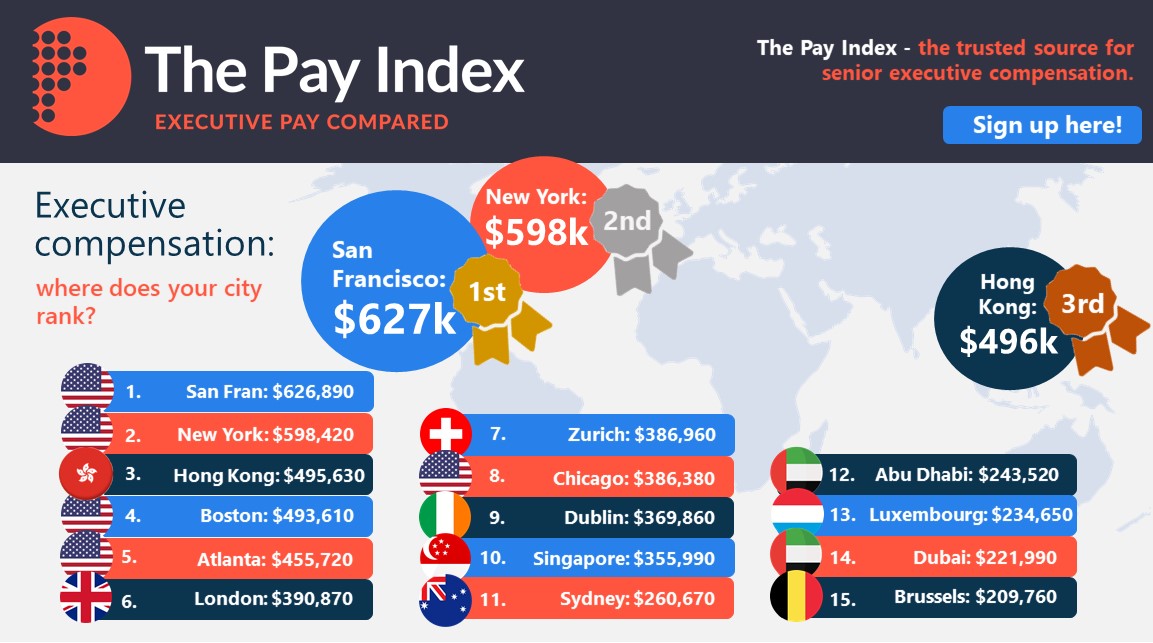 US leads the way dominating 5 of the top 9 spots
Is it any surprise that 1st place on the overall rankings goes to San Francisco, the home of Apple, Facebook, Google et al, paying executives on average a 63% premium over the global average total compensation of those registered on The Pay Index.
Close on the heels of San Francisco in 2nd place overall is the Big Apple itself, New York (offering a 56% premium), with Boston (25% premium) occupying 4th place overall.
What may be somewhat of a surprise is Atlanta (19% premium) in 5th position overall. When we delved a little deeper it transpired that Atlanta is ranked 3rd in the USA for the most Fortune 1000 companies that it has based in the city, being home to none other than Coca-Cola, UPS and Delta Airlines, amongst many others.
Then the final US city was Chicago (paying 1% above the average) coming in 8th on the overall list, and home to a wide variety of Fortune 500 companies including, Walgreens Boots Alliance, Boeing and Allstate.
Post-Brexit city destinations rapidly gaining popularity
There has definitely been a rise in popularity in several European cities as a result of companies implementing a variety of Brexit contingency strategies.
Zurich's (6th overall) popularity is largely driven by the high standard of living offered by the city (and country as a whole), coupled with the presence of companies such as Credit Suisse, Zurich Insurance, UBS, and Swiss Re.
Dublin (9th) has been a very popular destination for several years, with Brexit only adding to the value of this very likable city. Tech firms, such as Microsoft, Facebook, Google, LinkedIn, eBay and PayPal have all made Dublin's 'Silicon Docks' their home. However, Dublin's appeal is extending far beyond the tech sector with Bank of America being just one high profile name to make Dublin its city of choice for a post-Brexit HQ.
Luxembourg (13th) and Brussels (15th) complete the list from a European perspective.
London is running mid-pack
London is currently placed 6th overall, offering a slight premium of 2% on overall average compensation, although, as Brexit continues to play out it will be interesting to see if this ranking and/or pay premium alters as London may surely have to compete more aggressively for talent.
Hong Kong leading the APAC region
One of the interesting observations is Hong Kong's overall 3rd position in the table, offering an overall premium of 29% on total average compensation.
Does compensation tell the whole story?
Although the figures heavily point in favour of the US cities, it's important to consider that compensation is only one factor that executives consider when assessing where to work.
Other factors, such as average working hour expectations, vacation allowances, and cost of living play essential roles in determining overall job satisfaction.
Check your cost of living v compensation now on The Pay Index
Why not log in now and check your compensation against our global cost of living index to see how your pay compares: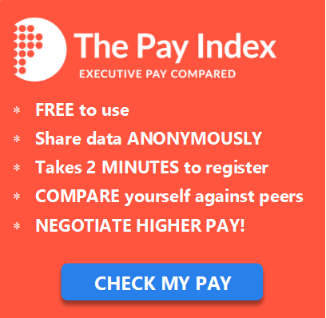 Further information and references:
www.knowatlanta.com/jobs/atlanta-fortune-500/
www.tripsavvy.com/chicagos-top-fortune-500-companies-4136632
www.nytimes.com/2017/07/21/business/dealbook/bank-of-america-dublin-ireland-brexit.html
www.stephensgreenhotel.ie/blog/major-companies-european-headquarters-ireland/
www.topmba.com/jobs/15-fortune-500-companies-headquartered-switzerland
The data:
Data taken from over 8,500 global senior executives
50% of the database work within companies of 10,000+
89% of the database possess a Batchelors and / or Masters Degree
86% of the database possess 16 or more years in industry