Does it pay to be loyal? How does tenure impact executive compensation
9/25/2018 The Pay Index
The burning question…does it pay to be loyal?
In the latest article from The Pay Index, the leading online source for executive pay comparison, we explore how tenure within a job role impacts compensation.
Does it pay to remain in the same job for longer?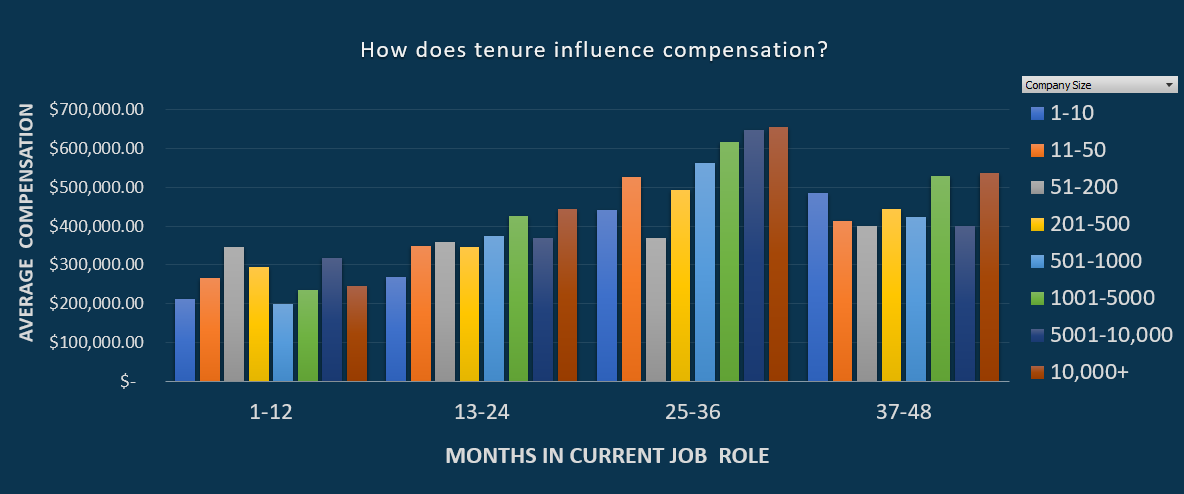 The key question we wanted to investigate was whether it pays (if you can excuse the pun) to remain in the same job and company longer or if there is merit to moving jobs on a more regular basis to ensure you maximise your earning potential.
According to the latest data, which has been compiled from over 5,500 global senior executives, being in the same role for between 2-3 years is the most lucrative for senior executives, and it can offer a premium of approximately 21% on their compensation when compared against the overall database. This premium rose even further to 28% when this tenure was corelated against executives who work within companies of 10,000+ staff.
However, the data also showed that loyalty doesn't always pay, as executives who had remained in their role for longer than 3 years were earning less when compared to their peers in the 2-3 year category, and this was most notable across firms employing 500 staff or more.
For example, the data showed that the average compensation for executives who had been in the same role for 3 or more years was 21.5% less that those executives who had been in their role for 2-3 years. This reduction in compensation was even larger (38%) within companies that employed between 5,000 – 10,000 employees.
These findings were consistent with a study on Forbes, which also found that employees who fail to move roles/companies frequently enough can be reducing their earning potential by as much as 50%, when compared to those who move roles more frequently. They largely attribute this to the fact that internal pay rises are frequently below 5% per annum, whereas the average pay rise an individual receives when they move externally is between 10-20%.
Relating these findings back to the data on The Pay Index, it would be fair to assume that those individuals who have remained in their roles for more than 3 years are falling into the pattern highlighted by Forbes and are not realising their current market value.
Is the SME sector paying a premium to attract talent?
At the other end of the spectrum is the SME sector, categorised [on The Pay Index] as those companies employing up to 200 staff.
The main observation within this data range was from companies of 51-200 staff, demonstrated that they are prepared to pay a premium of 33.5% (when compared to the average first year compensation) to get new executive talent on-board.
However, the downside is that this company size offers the lowest growth in salary thereafter – with a compensation increase of only around 16% over the next 4 years.
The reverse of this trend can be seen within the larger companies (those employing 500+ staff), which displayed the greatest growth in compensation, but individuals must be prepared to take a lower compensation level to start with.
Data breakdown:
All figures in US Dollars
All data is less than 12 months old
Overall average for entire database ($465K)
Data taken from over 5,500 senior executives
50% of the database work within companies of 10,000+
89% of the database possess a Batchelors and / or Masters Degree
86% of the database possess 16 or more years in industry
178 different cities
51 different countries