Do I need to upgrade my Bachelors degree to improve my earning potential?
8/3/2018 The Pay Index
Last month in our article series we examined how education impacts annual compensation and the overall profile showed a somewhat predictable steady growth in earnings in alignment with education.
However, do all industry sectors reflect this pattern or are there some that buck the trend?
Here's what the latest executive compensation trends on The Pay Index showed us…
The Pay Index findings – Global Average Compensation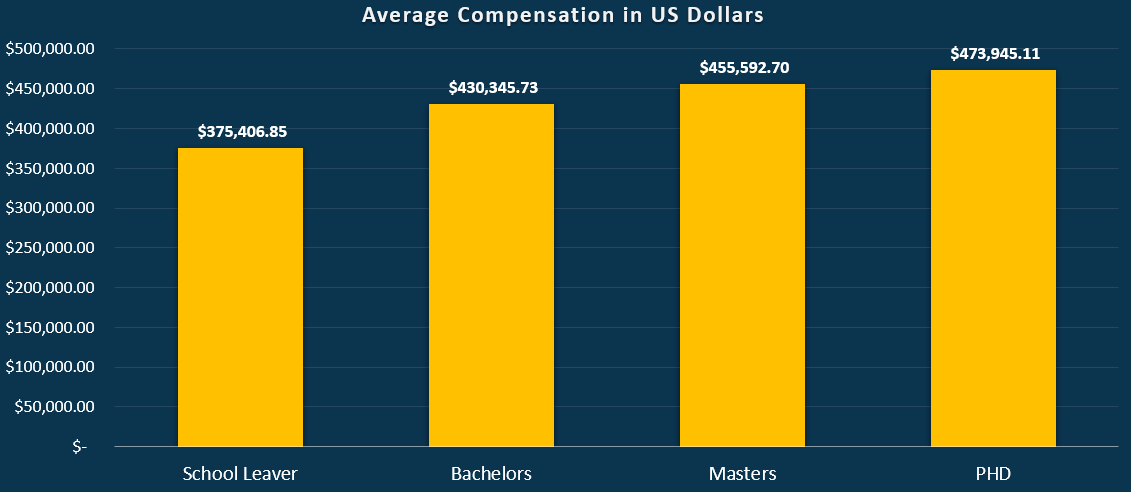 If you have a PhD expect increased compensation if you work in Risk, Information Security or Finance
Those with a PhD working in Risk, Information Security or Finance all showed notable annual comp gains by holding a PhD level qualification.

In Risk a PhD level graduate could earn approximately 20% more per annum that those with just a Bachelor's or Master's degree.
While Information Security executives with a PhD out-performed those with a Master's degree by 25%, and those with a Batchelor's by 36%.
However, the sector to be in was Finance, Tax & Treasury, where executives with the PhD earnt 34% and 49% more than their Master's and Bachelor's peers respectfully.
A Master's degree will suit you the best if you work in Compliance
When we evaluated senior executives who work in Compliance we found that there was only a slight compensation advantage (3%) to those who possessed a Master's degree, over peers with a Bachelor's degree.
However, the key observation was that the Master's degree professionals out-earned the PhD qualified Compliance executives by almost 29%.
Only hold a Bachelor's degree? Don't worry, Tech & Audit will reward you favourably
Technology professionals who possess a Bachelor's degree (as their highest qualification) actually outperformed their PhD counterparts by 33%, or as much as US$137,720, when it came to average annual compensation.
And what if you're a CEO?
In a true reflection of the impact of the entrepreneurial nature of a CEO, our data showed that those who were School Leavers (thus, who did not possess any form of degree) earnt an average of 19% more than CEOs with a PhD.
In summary
It was an interesting exercise to drill down into different industry sectors as it showed that there is no straightforward relationship between increased education / qualifications and compensation.
An interesting follow-up study to undertake in the future would be to investigate if there is a correlation between the sectors that place less emphasis on financially rewarding those with a PhD, and whether those same sectors place far more emphasis on industry-specific / professional qualifications.
Thank you for reading and if you have suggestions for future research articles please email support@thepayindex.com.
Data breakdown:
All figures in US Dollars
All data is less than 12 months old
Overall average for entire database ($443K)
Data taken from over 6,200 senior executives
50% of the database work within companies of 10,000+
90% of the database possess a Bachelors and / or Masters Degree
86% of the database possess 16 or more years in industry
378 different cities
57 different countries